Exclusive Onboard Credit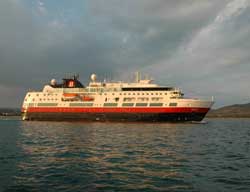 Exclusive Onboard Credit
Connect With Your Inner Explorer
Curiosity and wanderlust run deep in all of us. We long to travel, experience the unexpected, learn something new, and return home renewed. Hurtigruten gives you more opportunities than ever to discover your inner explorer with expedition cruises to remote and pristine polar destinations.
Exclusive Onboard Credit for All Cruises Departing September 10, 2018–March 31,
...

In business since 1893, Hurtigruten operates premium exploration voyages to Norway, Greenland, Spitsbergen, Iceland, Europe, Africa, South America, Central America, Arctic Canada, and Antarctica. These are unique destinations where the natural beauty is matched only by the breathtaking beauty and stunning diversity of its wilderness, inhabitants, flora, and fauna. On all of the small ships in our fleet, you will find modern facilities and equipment designed specifically to sail in remote areas.
...
This is an Exclusive Offer