5 Days Cuba from Tampa, FL
on Carnival Paradise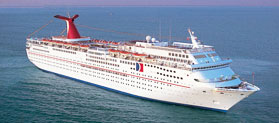 We broke the mold after we made this one. The final Fantasy class cruise ship ever created, Carnival Paradise is proof that there's plenty of fun to be found long before you reach your dream destination. While we've never stopped adding the latest and greatest features to the ship, this ship remains classic Carnival - fun-packed from bow to stern. With so much of it indoors, outdoors and everywhere in between, Carnival Paradise features great times in and near the water courtesy of hot tubs,
...
About Carnival Cruise Lines

Carnival is "The World's Most Popular Cruise Line®" with 24 ships operating 3 to 16-day voyages to The Bahamas, Caribbean, Europe, Mexican Riviera, Alaska, Hawaii, Canada, New England, Bermuda, Australia, New Zealand and the Pacific Islands. We offer a wide array of quality cruises, and pride ourselves on delivering memorable vacations to our guests. A Carnival cruise offers not only outstanding value for the money, but most importantly, fun! A "Fun Ship" cruise features day and nighttime entert
...